Peter K. – Alone against the state
A feature film by Laurent Wyss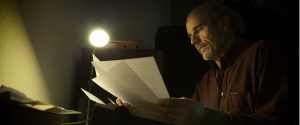 Isolated in his modest detached house in Biel, Peter K. lives on the edge of society. For him, the outside world is the source of his problems. Hardly out of the house, the pensioner feels supervised by his arch-enemy: the totalitarian state. Peter writes it all in his diary.
His sister betrayed him. It's only a matter of time. Mowing lawns in broad daylight – a risk he can no longer take. Peter is prepared for the worst.
On a September day, an armed task force surrounds his house.  Filled with fear, he flees into nature. The majestic forests offer Peter shelter. He's hiding. All left to their own devices and pursued by the media. The forest quickly reveals its hostility. Peter's cold. He's hungry. His body's getting weaker and weaker.
A photograph of him appears in all the newspapers. Peter has become a symbol of resistance to oppression. Young people wear T-shirts with his portrait: "Go Peter, go!".
The large audience in the courtroom sees him as a hero of modern times. The judge and the psychiatrist don't agree. He would never accept a plea of guilty or insanity. He fights, but is helplessly at the mercy of the state's arbitrariness. Peter is being held in prison for life. That's his death sentence.
The enemy has defeated him! He will continue to fight, to write: «Eight o'clock. The sky is overcast. Note: nothing.»
Feature, CinemaScope, 86 Min, Release 2018
Written and directed:  Laurent Wyss
Cast: Manfred Liechti, Sibylle Brunner, Hanspeter Bader
Stefanie Günther Pizarro, Thomas Loosli
Camera: Daniel Leippert
Sound: Patrick Fluri / Olivier JeanRichard
Light: Hanspeter Wieland, Silas Thommen, Eric Walther, Pierre Reischer
Assisstant director: Sandra Reichenwallner
make-up artist: Ernst Lüthi
Costumes Design: Manon Kündig, Heidi Gruber
Wardrobe: Heidi Gruber
Location Manager: Julien Grindat
DIT: Patrick Fluri
Music: sonderfilmmusic Sandra Stadler, Bänz Isler
Special Effects: Micha Hurni
Editing: Micha Hurni
Grading: RecTv
Mix: Peter von Siebenthal

Co-producer: Badlandfilms, Bienne, Julien Grindat, Patrick Fluri
Producer: Pedro Haldemann
Distribution: Aardvark Filmemporium Mark Pasquesi